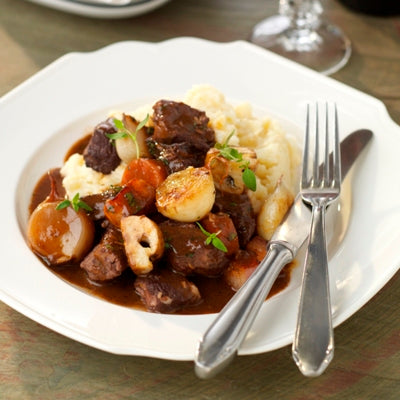 Boeuf Bourguignon
Serves 4-6
20 mins prep time
3 hours cook time

recipe courtesy of our friends at ukshallot.com
Ingredients

You'll Need

4 tbsp rapeseed oil
Sea salt and freshly ground black pepper
1kg of diced blade of beef, cut into 5cm/2in pieces
14 shallots, peeled
200g smoked streaky bacon, cut into cubes
200g chestnut mushrooms cut into chunks
1 large carrot, peeled and cut into chunks
3 cloves of garlic, peeled and finely chopped
1 tbsp chopped thyme leaves
1 tbsp tomato puree
2 tbsp plain flour
1 bottle of red burgundy
300ml beef stock
2 tbsp flat leaf parsley chopped
2 bay leaves
Zest of 1 orange

Method

Preheat oven to 150°c, gas mark 2 or 300°f


Heat a large, heavy based oven proof casserole pan on a medium heat and add the oil.


Season the beef with sea salt and black pepper and fry until golden brown, for about 3 minutes, then turn and fry the other side. Cook the meat in about 3 batches and set aside.


In the same pan, add the shallots, bacon, mushrooms, carrots, garlic and chopped thyme leaves and cook until lightly browned. Then stir in the tomato puree and plain flour and cook for 2 minutes, stirring constantly.


Add the beef and the beef juices to the pan and mix thoroughly into the shallot mixture pour the wine and stock over, and then add the parsley, bay leaves and orange zest. Put on the casserole lid and cook very gently for 2.5 – 3 hours.


Adjust the seasoning and serve with either celeriac mash or the French accompaniment potatoes Boulangeres, and sprinkle with freshly chopped parsley or sprigs of thyme.