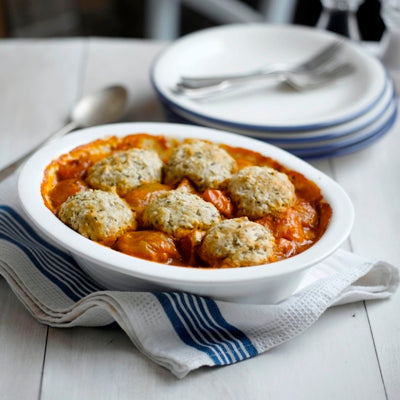 Butternut Squash, Shallot & Butterbean Casserole with Herbed Dumplings
Serves 4
30 mins prep time
1hour 20 mins cook time

recipe courtesy of our friends at ukshallot.com
Ingredients

Casserole

1 medium butternut squash (approx 600-800g), cut into 2.5 cm chunks (leave the skin on for added texture)
12 shallots, peeled and left whole
6 sage leaves, roughly chopped
3 tbsp extra virgin olive oil
3 cloves garlic, crushed
1 heaped tbsp flour
175ml white wine
1 tin butterbeans, drained and rinsed
400ml vegetable stock
2 tbsp sundried tomato paste

Dumplings

200g self raising flour
100g vegetable suet
2 tsp dried mixed herbs
Salt and freshly ground black pepper
5-8 tbsp cold water

Method

Place the butternut squash and shallots in a roasting tin along with the olive oil, sage leaves and a good grind of pepper and salt to taste. Roast in a hot oven (220°C/Gas 7) for 20-30 minutes until the vegetables are tinged with colour at the edges.


Whilst the squash and shallots are cooking make the dumplings by combining all the dry ingredients in a large bowl. Add enough cold water to bring it together to make a soft dough. Shape the dough into 8 small balls and set aside.


When the squash and shallots are cooked, remove from the oven and turn the temperature down to 180°C/Gas 4.


Add the flour to the roasting tin, stirring to coat the vegetables and soak up all the roasting juices. Add the garlic and white wine to the roasting tin, scraping the bottom to release all the sticky caramelized bits


Transfer to an oven proof casserole and add the beans, sundried tomato paste and enough vegetable stock to cover the vegetables.


Give everything a good stir, Bring to the boil and cover. Cook in the oven for 30 minutes.


Remove the casserole form the oven and carefully add the dumplings so they float on the surface. Return to the oven, uncovered, for 20 minutes until the dumplings are crispy on the outside and fluffy and cooked through on the inside


Serve immediately. Mashed potato and green beans would work well as an accompaniment.