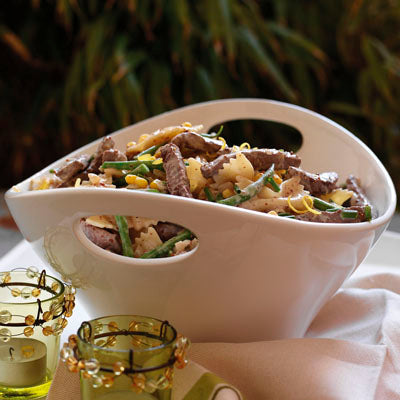 Creamy Beef and Mustard Pasta
Serves 4
15 mins prep time
15 mins cook time

recipe courtesy of our friends at Simply Beef & Lamb
Ingredients

You'll Need

450g / 1lb lean beef sirloin, rump, topside or frying steaks, cut into 5cm / 2 inch strips
150g / 5oz dried pasta bows, or similar
5ml / 1 tsp sunflower oil
1 small onion, peeled and finely chopped
50g/2oz fine green beans, topped and cut in half
1 x 198g can sweetcorn, drained
150ml / ¼ pint crème fraîche
30ml / 2 tbsp wholegrain mustard
10ml / 2 tsp grated lemon zest
Salt and freshly milled black pepper
30ml / 2 tbsp freshly chopped chives

Method

Cook the pasta according to the packet instructions, drain and set aside.


Meanwhile, heat the oil in a large pan or wok and cook the beef strips in batches for 3-4 minutes until brown.


Add the onions, beans and sweetcorn and cook for a further 3-4 minutes.


Mix together the crème fraîche with the mustard and lemon zest. Add to the pan with the beef and stir in the hot pasta. Season and add the chives.


Spoon into a large pasta bowl and serve immediately with crusty bread.