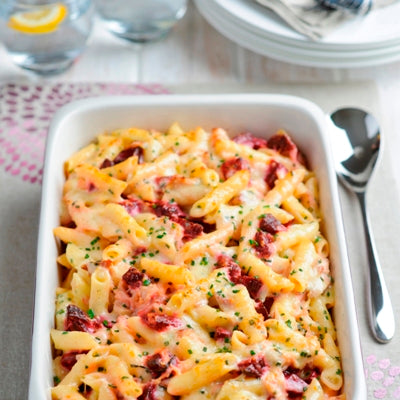 Creamy Pasta Bake with Beetroot & Smoked Ham

Serves 4
20 mins prep time
20 mins cook time

recipe courtesy of our friends at lovebeetroot.co.uk
Ingredients

You'll Need

375g dried pasta shapes, e.g. conchiglie, fusilli or penne
1 onion, finely chopped
50g unsalted butter
1 clove garlic, crushed
2 tbsp plain flour
450ml milk
150ml double cream (or use extra milk for a less rich option)
150g gruyere or mature cheddar, grated
200g piece smoked ham, torn into shreds
Small bunch chives, snipped
Salt & freshly ground black pepper
500g cooked beetroot (2 packs), cut into 1cm cubes

Method

Preheat the oven to 180°C


Cook pasta according to packet instructions. Drain and reserve


Set a heavy based saucepan over a low heat, sweat the onion in the butter for 10-15 minutes until it starts to soften. Add the garlic and fry for a further minute before stirring through the flour.


Pour in milk and cream, and bring up to the boil, stirring constantly until thickened. Simmer steadily for 2-3 minutes to cook the flour.


Turn out the heat, stir through half the cheese, the ham and chives. Season to taste with salt and freshly ground black pepper.


Stir through the cooked pasta and beetroot and spoon into a baking dish. Scatter over the rest of the cheese and bake for about 20 mins golden brown and bubbling.


Serve immediately, accompanied by a green salad.