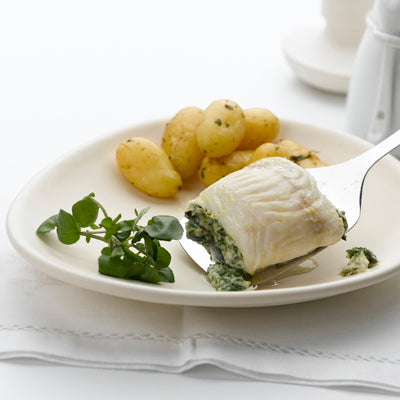 Haddock Fillet with Leek and Spinach Stuffing
Traditional ingredients served in a simple but colourful way. Haddock fillets rolled around a creamy filling combining leeks, spinach and tangy goats' cheese; the lemony flavour of which compliments the haddock to perfection.

Serves 4

15 mins prep time
20-25 mins cook time

recipe courtesy of our friends at British Leeks
Ingredients

You'll Need

4 fillets of haddock, skinned
25g/1oz butter
1 lemon

For the filling

25g/1oz butter
2 leeks trimmed, washed and shredded
200g/7oz baby spinach leaves
75g/3oz creamy Welsh goats' cheese
75g/3oz fresh white breadcrumbs
½ tsp freshly grated nutmeg
Seasoning of sea salt and ground black pepper

Method

Prepare the filling. Sweat shredded leeks in the butter for 2 - 3 minutes to soften. Add the spinach leaves and cook briefly until just wilted. Place ingredients into a colander and squash out juices using a potato masher. Combine leek and spinach mix with remaining filling ingredients.


Lay haddock fillets flat on a chopping board. Spread with the filling and roll up. Rest in a shallow ovenproof dish lined with baking parchment. Dot with butter and lemon juice. Cover with wetted baking parchment and cook for 20 - 25 minutes until the fish is just cooked.


Serve with new potatoes and sprigs of watercress.