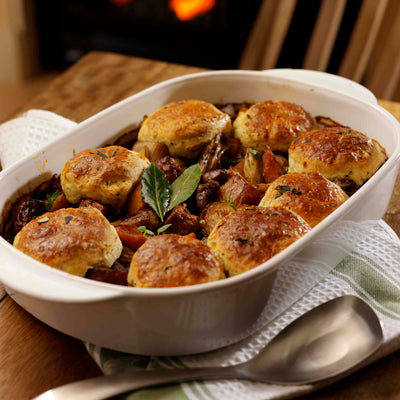 Hearty leek & lamb cobbler
Serves 4

10 mins prep time
3 hours cook time

recipe courtesy of our friends at British Leeks
Ingredients

For the cobbler

450g/1lb stewing lamb such as shoulder, cubed (or use pork shoulder or braising beef)
2 tbsp plain flour, seasoned with salt and pepper
2 tbsp vegetable or sunflower oil
150ml/¼ pint brown ale
4 medium leeks, trimmed then cut into thumb lengths
1 stick celery, sliced
3 medium carrots, peeled and cut into big chunks
400g/14oz swede or turnip, peeled and cut into big chunks
a few sprigs fresh thyme (or 1 tsp dried)
1 or 2 bay leaves, fresh or dried is fine
500ml/18fl oz lamb or beef stock

For the cobbler topping

250g/9oz self-raising flour
80g/3oz cold butter, cut into cubes
125ml/4fl oz semi-skimmed milk
2 tsp wholegrain mustard
1 tbsp fresh thyme leaves (or 1 tsp dried)
1 egg, beaten

Method

Heat the oven to 160°C/fan 140°C/gas 3. Toss the lamb with the seasoned flour. Heat 1 tbsp oil in a medium casserole, then fry the meat for 10 minutes, until dark golden brown all over. Transfer to a bowl. Splash in the ale and bring to a boil, scraping up all of the tasty brown bits from the bottom. Tip this over the meat then wipe the pan with kitchen paper.


Heat 1 tbsp oil then gently fry the vegetables with the thyme and bay for 10-15 minutes until turning golden here and there. Return the lamb and juices to the pan, top up with the stock, then season. Cover the casserole with a lid, leaving just a small gap to one side, then cook in the oven for 2½ hours.


With 40 minutes to go, make the topping. Add ½ tsp salt to the flour in a large bowl. Rub in the butter with your fingertips until the mix looks like fine crumbs. Combine the milk, mustard, thyme and half of the egg, then tip into the bowl and bring to a soft dough. Knead a few times on a floured surface till just smooth, then pat the dough to about 3cm/1in thick and stamp into rounds. Squash together any trimmings and repeat. Don't overwork the dough as it will make it tough.


Uncover the meat, stir gently and taste the sauce for seasoning at this point. Place the cobbler pieces on top, brush them with the remaining egg, then return to the oven until the topping is golden and lamb tender. Let the cobbler settle for 10 minutes before serving with your favourite seasonal greens.