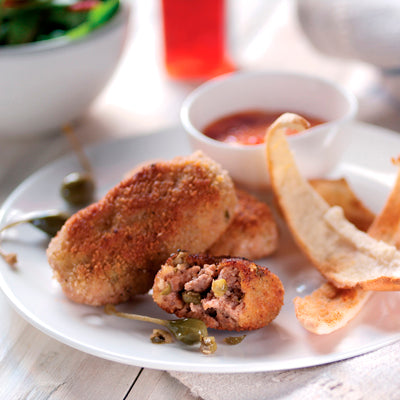 Lamb Rissoles with Spicy Tomato Dip
The Medieval answer to difficulties arising from eating with only a knife and spoon!! Meat was minced, rolled in breadcrumbs and fried - the perfect Medieval fast finger food. Ours are flavoured with capers, which have been used in cooking since Tudor times.


Serves 3
10 mins prep time
10 mins cook time

recipe courtesy of our friends at Simply Beef & Lamb
Ingredients

You'll Need

225g / 8oz lean lamb mince
1 garlic clove, peeled and crushed
30ml / 2 tbsp tomato ketchup
15ml / 1 tbsp capers, finely chopped
25g / 1oz breadcrumbs
Salt and freshly milled black pepper
1 beaten egg


For the dip

5ml / 1 tsp oil
30ml / 2 tbsp mayonnaise
30ml / 2 tbsp tomato ketchup
5ml / 1 tsp sweet chilli sauce

Method

In a bowl mix together the lamb, garlic, tomato ketchup, capers and breadcrumbs. Mix well, season and shape into 6 rissoles. Spread the breadcrumbs onto a plate, and dip each rissole into beaten egg and then into the breadcrumbs.


Cook for 8-10 minutes each side, under a preheated grill or by heating the oil in pan and frying. To make the dip mix together the mayonnaise with the tomato ketchup and sweet chilli sauce.


Serve as a snack with toasted pitta bread, the tomato dip and salad or as a main meal with potato wedges.