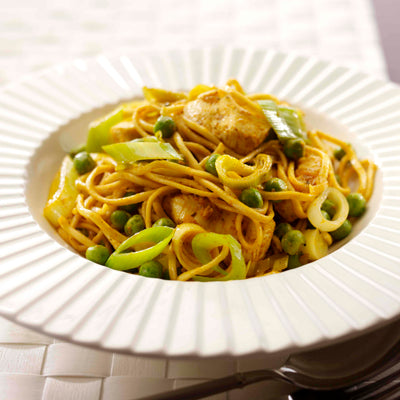 Leek and Chicken Noodles
Serves 2

5 mins prep time
15 mins cook time

recipe courtesy of our friends at British Leeks
Ingredients

You'll Need

250g egg noodles
1 spray of oil
1 leek, finely sliced
5 cm piece of root ginger, grated (or 1 cube of frozen ginger)
1 tbsp medium curry paste
125g frozen peas
2 skinless chicken breasts, diced (or 250g peeled prawns)
soy sauce to serve

Method

Break the noodles into a large bowl. Pour over enough boiling water to cover. Stir and toss the noodles in the water and then leave on one side for 6-8 minutes.


Meanwhile, heat a wok and spray with oil. Add the chicken pieces or prawns and allow to cook through (about 10 minutes for the chicken and 5 minutes for the prawns).


Remove from the wok and set aside on a plate. Stir-fry the leek and ginger until softened.


Stir in the curry paste and cook for a further 2 minutes. Stir in the peas and chicken or prawns. Reduce the heat, cover and cook for 3 minutes.


Drain the noodles and add to the wok, toss well to coat. Serve with a splash of soy sauce.