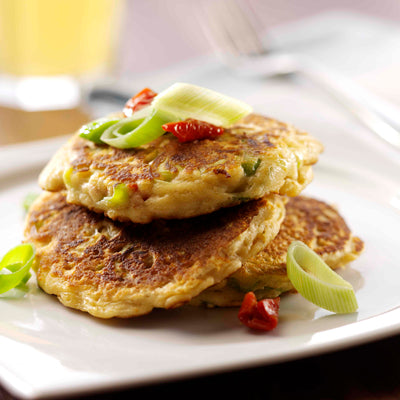 Leek and Oat Savoury Pancakes
Serves 4
10 mins prep time
+ soak oats overnight
15 mins cook time

recipe courtesy of our friends at British Leeks
Ingredients

You'll Need

1 tbsp olive oil
1 leek, thinly sliced
4 sun-dried tomatoes, drained and chopped
100g rolled oats
250ml buttermilk or semi-skimmed milk
3 eggs, well beaten
50g plain flour
2 teaspoon baking powder
Pinch salt
1 tbsp sunflower oil

Method

Put oats into a large bowl; add the buttermilk or semi-skimmed milk. Let the oats soak overnight if possible but for at least 30 minutes.


Mix in the eggs, flour, baking powder, salt and sunflower oil using a hand whisk to get a fluffy mixture.


Heat the olive oil in a frying pan and add the leeks and cook until soft (approximately 5 minutes), stir in the sun dried tomatoes and cook for a further minute. Stir into the pancake mixture.


Heat a griddle pan to medium high heat. Oil the pan and take a ladle of the pancake batter to drop onto the griddle. When air bubbles start to bubble up to the surface at the centre of the pancakes (about 2-3 minutes), use a flat spatula to flip them over. When golden or darker golden brown, they are done.