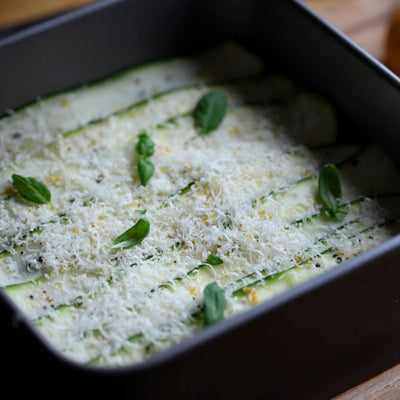 No Pasta Lasagne
Having a low-carb day, or just fancy a change from pasta? Then courgettes to your rescue for you my friend. This fresh, organic Mediterranean style recipe is yummy and healthy. Hurrah.


Serves 2-4
15 mins prep time
30 mins cook time

recipe courtesy of our friends at Abel & Cole
Ingredients


You'll Need

A jar of tomato pasta sauce, or make your own (see step 2)
2-3 courgettes
Sea salt and freshly ground pepper
A lemon
A good-sized hunk of parmesan
A few handfuls of fresh basil
Two balls of fresh mozzarella
A handful of pinenuts (optional)
Olive Oil

Method

Preheat oven to 180°C/Gas 4.


If you're using a premade sauce move to step 3
To make your own sauce: Fry finely diced onion in olive oil till tender. Add two or three chopped garlic cloves. Season. Sizzle for a mo. Add a tin of tomatoes, bubble it for a few mins. Add a glug of balsamic vinegar. Bubble again. Fold in fresh herbs


Dollop a few spoonfuls of sauce in the bottom of a lasagne dish. Top with overlapping ribbons of courgette (use your veg peeler).


Sprinkle with salt, pepper, lemon juice and zest. Scatter with grated parmesan and basil and torn mozzarella. Repeat. Repeat again, but skip the courgettes.


Top with pinenuts. Season. Bake until golden, 20-30 mins.