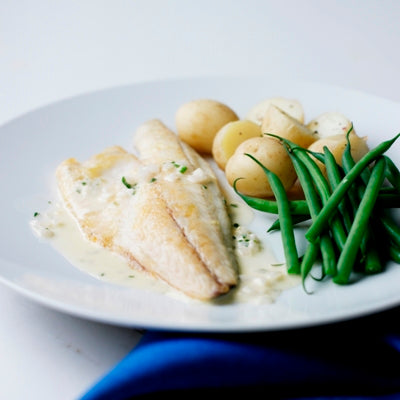 Pan Fried Sea Bass with a Herby Butter Sauce
Serves 4
10 mins prep time
10 mins cook time

recipe courtesy of our friends at ukshallot.com
Ingredients

Pan fried sea bass

4 fillets sea bass
1 tbsp plain flour
2 tbsp olive oil




Herby butter sauce

150g unsalted butter
200g banana shallots, peeled and finely diced
1 sprig thyme
1 bay leaf
250ml white wine
100ml white wine vinegar
100ml double cream
50ml lemon juice
1 tbsp chopped fresh chives
1 tbsp chopped fresh chervil
salt and freshly ground black pepper

Method

First, make the sauce. Heat 20g of the butter in a saucepan over a low heat and add the shallots, thyme, bay leaf, 2g of salt and 12 turns of a black pepper mill. Cook for 2 minutes, until softened.


Add the white wine and white wine vinegar and simmer until reduced by two thirds. Add the cream and simmer until reduced by half.


Whisk in the remaining butter, then add the lemon juice and check the seasoning. Remove the thyme sprig and bay leaf, then stir in the fresh herbs. Keep warm.


Heat the olive oil in a non-stick frying pan. Dust the fish with the flour, shaking off any excess. Season with salt and pepper and add to the hot pan, skin side up. Cook for 2 minutes, then turn the fish over and cook for a further 2 minutes. Serve with the sauce, some new potatoes and steamed green beans.