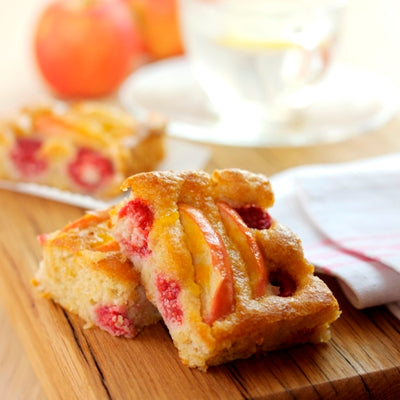 Pink Lady® Apple, Raspberry and Almond Energy Bar
Fabulously light, gluten-free and with virtually no saturated fat, Pink Lady® apple energy bars are packed with wholesome calories to supercharge your run. So simple, basically just eggs, almonds and sugar, these bars have carbohydrate and protein to provide sustained energy. Loaded with omega 3 fats, vitamins C, E and minerals such as magnesium and potassium, these deceptively nutritious bars also work as an effective post-run recovery treat to help replace the nutrients lost through sweat.


Makes 12 bars
15 mins prep time
25 mins cooking time

recipe courtesy of our friends at pinkladyapples.co.uk
Ingredients

You'll Need

4 large free range eggs
120g unrefined caster sugar
½ tsp ground cinnamon
Zest of ½ small orange
190g ground almonds
24 frozen raspberries (don't defrost)
1 Pink Lady® apple, unpeeled, cored and sliced thinly
1 tsp apricot jam to glaze

Method

Preheat the oven to 180°C/gas mark 4. Grease the tray bake tin (if possible, use a 12 x miniature tray bake tin. Otherwise, the cake can be sliced once baked). If you don't have one, use 12 silicone muffin cases, or indeed, an 8"/20cm loose-bottomed cake tin.


Separate the yolks from the whites of the eggs. Place four yolks into one bowl and, in a separate bowl, the whites of just three of the eggs, reserving the last egg white for the glaze.


Using an electric whisk, whisk the three egg whites until they form soft peaks, then set aside.


Take the bowl with the egg yolks and add the sugar, cinnamon and orange zest. Whisk until pale and creamy. Then stir in the ground almonds. This will make the mixture quite stiff, don't worry, it's meant to be like that!


Using a metal spoon, gently fold in the egg whites, a little at a time, until completely combined.


Spoon the mixture into your bar tray. Press one or two frozen raspberries down into each bar and then lay a couple of Pink Lady® apple slices on top, pressing the white edge down into the mixture to show off the lovely blush of the apple skin.


Cook in the oven for 25-30 minutes, until golden and cooked through.


In a small bowl or cup, mix together a teaspoon of jam with a teaspoon of the remaining egg white. Using a pastry brush, carefully paint each bar with this mixture to produce a glossy finish. Leave in the tin until completely cool.