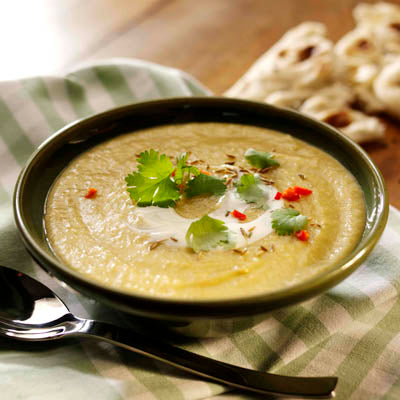 Spiced leek, potato & lentil soup
Serves 4

5 mins prep time
20 mins cook time

recipe courtesy of our friends at British Leeks
Ingredients

You'll Need

1 tbsp cumin seeds
40g/1½oz butter
4 medium leeks, trimmed and sliced
thumb-size piece fresh root ginger, peeled then grated
handful fresh coriander, stalks finely chopped
1 fat red chilli, deseeded and finely chopped
1 large (250g/9oz) Maris Piper or King Edward potato, peeled and thinly sliced
175g/6oz split red lentils
1 litre/1¾ pints chicken or vegetable stock
300ml/½ pint semi-skimmed milk
4 tbsp half fat crème fraiche or creamy yogurt, to serve

Method

Put a large saucepan over a medium heat then add the cumin seeds. Cook for 2 minutes, or until toasty and fragrant. Set ½ tsp aside for later.


Add the butter to the pan, let it melt and sizzle around the cumin, then stir in the leeks, ginger, coriander stalks and most of the chilli. Cover and let the flavours sweat together for 5 minutes.


Stir in the potato and lentils, then the stock and milk. Bring to a boil then simmer for 15 minutes, or until the lentils are soft.


Blitz the soup in the saucepan using a stick blender, then season to taste with salt and pepper. Ladle into bowls, add a swirl of crème fraiche or yogurt, then scatter with the reserved chilli, toasted cumin and coriander leaves. Enjoy with warm naan bread.