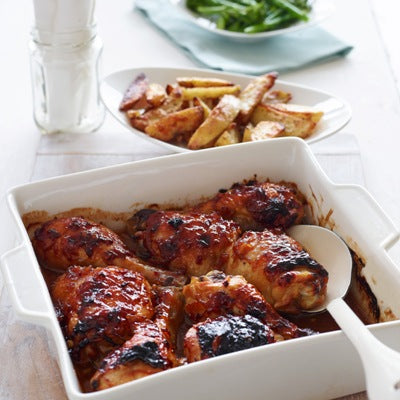 Sticky Chicken with Streamline Thin Cut Orange Marmalade
Quick and easy to prepare, this will become a midweek favourite in no time.


Serves 4
10 mins prep time
30 mins cooking time

recipe courtesy of our friends at streamlinefoods.co.uk
Ingredients

You'll Need

8 chicken pieces, a mixture of drumsticks and thighs
1tsp oil
2 shallots sliced
1 garlic clove, crushed
1 red chilli, seeded and chopped
4tbsp Streamline Thin Cut Orange Marmalade
1tbsp soy sauce

Method

Heat the oven to 200C


In a small saucepan heat 1tsp oil and cook the shallots gently for a minute. Add the garlic and chilli and continue cooking until the shallots are soft. Remove from the heat and stir in the Streamline Thin Cut Orange Marmalade and soy sauce


Put the chicken in a large bowl and pour over the marinade mixture, stirring well to coat the chicken. Place the chicken into an oven dish and spoon over any sauce that remains in the bowl. Cook for 30 mins, turning halfway through and basting. The chicken should be sticky and caramelised on the top and cooked all the way through


Tips: Delicious served with potato wedges and Tenderstem broccoli. Double or triple this recipe if you're cooking for a crowd. Cover the marinating chicken and refrigerate for up to a day to get ahead.