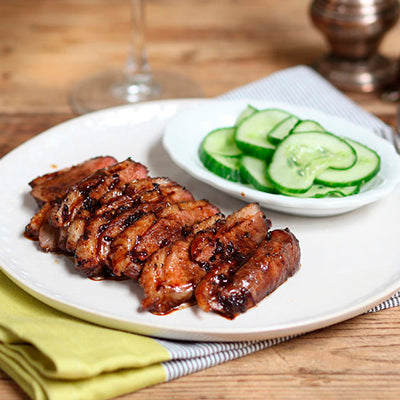 Sweet & Soy Duck with Pickled Cucumber
A simple and swift little Asian number.


Serves 2
10 mins prep time
25 mins cook time

recipe courtesy of our friends at Abel & Cole
Ingredients


You'll Need

2 duck breasts
2 tbsp soy sauce
2 tbsp honey
1 orange, juice and zest
1 thumb of ginger, peeled and finely grated
1 garlic clove, finely minced
6 cloves, finely ground
1 cucumber
Sea salt and freshly ground pepper

Method

Preheat your oven grill to high or your oven to 200°C/Gas 6.


Put a frying pan over medium-high heat.


Score the fat of your duck breasts. Start by cutting diagonally lines, just into the fat (not the flesh) of your duck, about 2cm apart. Do the same in the opposite direction, making a criss-cross pattern.


Mix the soy sauce, honey and zest and juice of your orange. Stir in your ginger, garlic and ground cloves. Pour the marinade over the fleshy side of your duck. Massage it in.


Shake off any excess marinade. Place the duck, fat side down, in the hot frying pan. There's no need for oil as the duck has plenty of fat, which melts out beautifully when cooking.


Cook for about 5 mins, or till the skin is golden. Flip. Pour in the remaining marinade. Pop into the preheated oven. Cook for 10 mins for rare, 15 mins for medium-rare and 20 mins for medium-well. If going for the latter, check your pan half way through cooking and add a splash of water if needed.


Thinly slice your cucumber. Dust with a 1 tsp of salt. Massage the salt into the cucumber, till the water is drawn out. Drain it. Pop it in a bowl. Put a jar or tin on top of the cucumber to weigh it down and draw more liquid out. Set aside while your duck cooks.


Place your duck on a cutting board. Save the pan juices. Let the duck rest for as long as it cooked. Thinly slice onto a plate. Spoon the pan juices over.


Drain the cucumbers. Taste. If they're too salty, pop in a sieve and rinse under cold water. Serve the pickles alongside the duck.