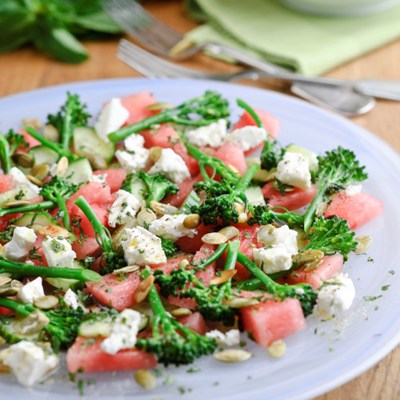 Tenderstem®, Watermelon and Feta Salad
Serves 2
10 mins prep time
10 mins cook time

recipe courtesy of our friends at tenderstem.co.uk
Ingredients

You'll Need

200g Tenderstem® broccoli
15g pumpkin seeds
Quarter of a medium sized watermelon
Quarter of a medium cucumber
200g feta cheese
Half bunch of mint leaves, roughly chopped
1 tbsp lemon juice
2 tbsp extra virgin olive oil

Method

Steam the Tenderstem for a few minutes until it is just tender. Remove and leave to cool.


Lightly toast the pumpkin seeds in a hot frying pan until they start to turn crunchy and golden. Remove from the pan and leave to cool.


Cut the watermelon and the cucumber into chunks and place in a bowl or on a large serving plate. Cut the Tenderstem into bite-size pieces and add to the bowl/plate. Crumble over the feta cheese and sprinkle over the toasted pumpkin seeds and chopped mint.


In a separate bowl, whisk together the lemon juice and olive oil. Season with salt and pepper. Pour over the top of the salad and serve.