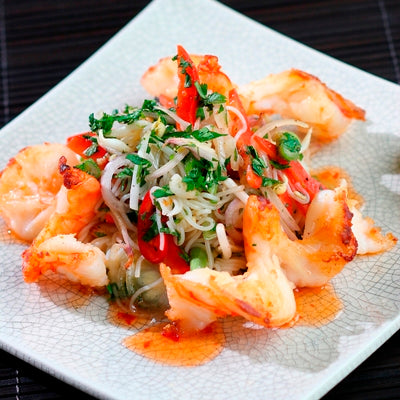 Thai Noodle Salad with Crispy Shallots, Asian Herbs and Pan Fried Butterfly Prawns
Serves 4
10 mins prep time
10 mins cook time

recipe courtesy of our friends at ukshallot.com
Ingredients

Thai Noodle Salad

350g cooked fine rice noodles
8 shallots, peeled and finely sliced
2 shallots, peeled and finely sliced into rings
50g beansprouts, rinsed and drained well
12 large tiger prawns, cooked and peeled
1/2 red pepper thinly sliced
3 tbsp fresh coriander
2 tbsp chopped mint
2 cm ginger, peeled and chopped
Grated rind of 1 lime
1/2 large red chilli, very thinly sliced
Oil for frying

Dressing

3 tbsp sweet chilli sauce
1 tbsp fish sauce
2 tbsp sunflower oil
Juice of 2 limes

Method

Heat enough sunflower oil to half fill a medium saucepan and fry in small batches the 8 finely sliced shallots until golden brown and crisp. Drain well on kitchen towel and set to one side.


Meanwhile, toss together the cooked rice noodles, the shallot rings, red pepper, beansprouts, mint, coriander, ginger, red chilli and the grated lime rind.


Mix together all the ingredients to make the dressing.


Split the cooked tiger prawns in half just up to the tail and fan out like a butterfly. Heat a frying pan with 1 tbsp of sunflower oil and toss in the prawns. Fry for 1 - 2 minutes, tossing the pan at regular intervals. Drain.


To serve, place a portion of the rice noodle salad on a plate or in a rice bowl, garnish with three prawns per portion and spoon over the dressing. Top with a pile of the crispy shallots. This dish can also be served with a dash of soy sauce.