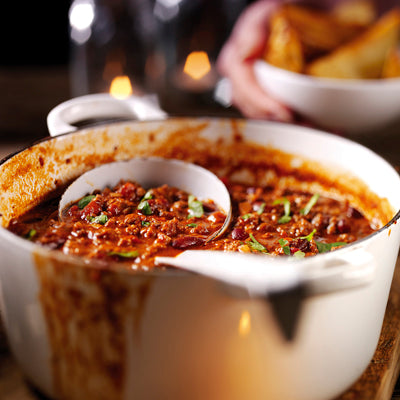 The Ultimate Beef Chilli
If you prefer a hotter chilli replace the dried chilli flakes with 1-2 finely chopped fresh chillies. The chilli will taste even better the next day and freezes well too.


Serves 6
10 mins prep time
1 hour 25 mins cook time

recipe courtesy of our friends at Simply Beef & Lamb
Ingredients

You'll Need

675g / 1½lb lean beef mince
15ml / 1 tbsp oil
2 onions, peeled and finely chopped
2 large garlic cloves, peeled and crushed
150ml / ¼ pint good red wine
2 x 400g can cherry or chopped tomatoes
30-45ml / 2-3 tbsp tomato purée
10ml / 2 tsp dried chilli flakes
15-30ml / 1-2 tbsp sweet chilli sauce
10ml / 2 tsp ground cumin
10ml / 2 tsp ground coriander
5ml / 1 tsp ground ginger
1-2 fresh bay leaves
30ml / 2 tbsp good quality cocoa powder
1 beef stock cube
Salt and freshly milled black pepper
2 x 400g cans red kidney beans, drained
Handful freshly chopped coriander

Method

Heat the oil in a large non-stick frying pan and cook the onions and garlic for 1-2 minutes.


Add the mince and cook for 8-10 minutes until brown, breaking down any meaty chunks with the back of a wooden spoon. Add the red wine and cook for 2-3 minutes.


Stir in the tomatoes, tomato purée, chilli flakes, sweet chilli sauce, spices, bay leaves and cocoa powder. Crumble over the stock cube and season.


Bring to the boil, reduce the heat and simmer for 1 hour. Add the red kidney beans and continue to cook for a further 10 minutes.